DID YOU KNOW WHY CATS ALWAYS LAND ON THEIR FEET?
Cats Always Land On Their Paws – Legend or Reality? Unlike our jam sandwiches which have the misfortune of always falling on the wrong side, cats have the ability to straighten up in their fall forever, or almost, fall back on their feet.
Cats have the ability to straighten up during a fall to land on their feet without hurting themselves too much. Note all the same that many visits to the veterinarian are due to falls, because even if our tomcats can fall on their legs that does not prevent sometimes causing small damage to their bones.
The cat's righting reflex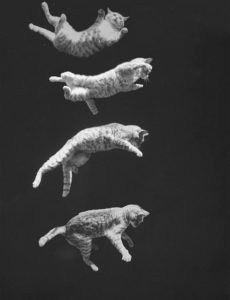 The cat's righting reflex is the cat's ability to straighten up when falling in order to land on all fours. This ability to orientate comes from the fact that cats have a very mobile spine where each of the bones are freely connected to each other. The bones of their forelimbs are also flexible, making it easier to cushion a fall and prevent damage to internal organs. Its eyes and inner ear also play an important role in the straightening action since they allow the cat to determine where the top of the bottom is in order to face the ground. He can then straighten his head in the right direction and his whole body will follow to find itself in position to land.
His whiskers will also allow him to know the approximate distance that separates him from the ground.
Tailless cats also have this ability to straighten up since the tail is not essential for this action. During a fall, the important thing for the cat is the position of its legs to receive it.
Accidents
Although cats have the ability to land on their feet, some falls can sometimes be dangerous or even fatal. Logically, studies have shown that the taller a cat falls, the more likely it is that it will injure itself . Falls from balconies or windows are very common and veterinarians very often find themselves treating broken legs. This type of accident is now called parachute cat syndrome .
Cats can still escape unscathed from a fall from a height of seven floors because at this distance, it gives them enough time to prepare for a landing.
Now you will know that your cat does not have superpowers